By Will Shaw:
Designed for the FlexNet® AMI System
There has been a trend in the natural gas industry for years, and that trend has been more stringent federal regulations. One of the many demands from federal regulations has been the measurement and reporting of corrosion on natural gas piping. Rightfully so, these regulations need to be enforced and utilities need to do a better job evaluating their Cathodic Protection Plan.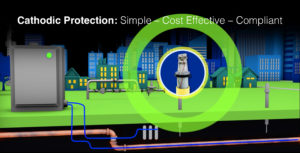 Historically, utilities have only been using smart solutions, such as AMI, for capturing meter readings. The capabilities with AMI have grown significantly in recent years, and one area of growth has been with Cathodic Protection. Sensus USA has developed the Sentry Point CP Test Point (CPTP100) that measures and collects protective voltage data at cathodic protection test stations. The data captured resides in an analytical software platform that is easily accessible and provides many insights to pipeline health. With daily reporting, one-hour alarm response and four data channels, the CPTP100 empowers utilities to manage cathodic protection remotely, accurately, and in real time. Collectively, Sensus has given utilities the capability to manage cathodic protection in house and at the same time be extremely cost-effective.
To learn more about these solutions, please contact your local ECCO sales professional or e-mail us ami@equipmentcontrols.com.
https://equipmentcontrols.com/product/sensus-sentrypoint-cathodix-protection-test-point-cptp100-2/