NORCROSS, GA (Feb. 16, 2023) – Equipment Controls Company (ECCO), one of the largest distributors of natural gas solutions for North America, is pleased to announce an official partnership for the full season with Andretti Autosport for the INDY NXT by Firestone on the No.28 DHL Dallara of Jamie Chadwick, as well as the No. 28 DHL NTT INDYCAR SERIES machine of Romain Grosjean for the GMR Grand Prix and the 107th Running of the Indianapolis 500.  
 "We are excited to announce our partnership with Andretti Autosport," said Jeb Bell, President, ECCO. "To align with an organization that values innovation, raising the standard and always striving for excellence, are the main reasons why this partnership works for us. And having the ECCO brand on the cars of Jamie Chadwick and Romain Grosjean is something our whole organization is really proud of."  
 As ECCO makes the expansion into motorsports partnerships, the company hopes to bring attention to their focus of innovation, technology and corporate social responsibility. And a partnership with Andretti Autosport is ideal for ECCO, as the organizations share a family-owned and operated legacy; while preparing for the next generation.  
"We're happy to welcome ECCO to the Andretti Autosport family of partners," said Doug Bresnahan, Chief Commercial Officer, Andretti Autosport. "Both organizations are team-oriented, family-owned and operated, and share a common goal of preserving legacies for the next generation. As such, ECCO's focus on driving innovative solutions through technology will lay the foundation for a strong relationship between both groups and in support of shared priorities."  
 Equipment Controls Company (ECCO) notes a nationally recognized partnership with a winning organization, such as Andretti Autosport, is a next step in moving the company forward.  
 ECCO will make their debut with Chadwick at the Firestone Grand Prix of St. Petersburg season opener March 3-5 and will then appear on the entry of Romain Grosjean for the month of May in the NTT INDYCAR SERIES.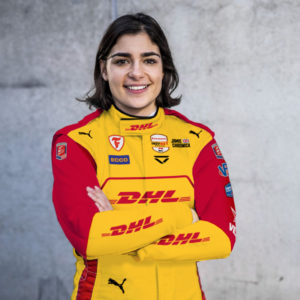 ###
 ABOUT EQUIPMENT CONTROLS COMPANY: 
Headquartered in Norcross, GA, Equipment Controls Company is one of the largest North American distributors of natural gas measurement, pressure control, and data acquisition products and services. Since 1965, Equipment Controls Company has been focused on delivering innovative solutions driven by everyday challenges. For more on ECCO, visit equipmentcontrols.com.  
 ABOUT ANDRETTI AUTOSPORT: 
Led by racing legend Michael Andretti, the team fields multiple entries in INDYCAR, INDY NXT, IMSA and Formula E; and has collaborations in Extreme E as Andretti ALTAWKILAT Extreme E, Mexico SuperCopa series as Andretti Jourdain Autosport and Australian Supercars as Walkinshaw Andretti United. The global racing enterprise boasts over 250 race wins, four INDYCAR Series championships, five INDY NXT titles, one Indy Pro 2000 and one USF2000 championship, a Silver Class GT4 championship and has captured victory five times at the famed Indianapolis 500-Mile Race. The team also holds two X Games Gold Medals and five U.S. rallycross championships.