The natural gas industry often faces a disconnect between fact/reality and the information that is provided to consumers. The facts are natural gas is a cleaner, cost effective alternative to fossil fuels and other energy sources. With a smaller footprint compared to coal and oil, natural gas remains a viable and important source of energy that remains prominent in our own backyard.
With an abundance of natural gas, America's infrastructure allows an affordable and safe energy source millions of Americans rely on daily. With advancements made in environmental stability, America's natural gas industry is essential to achieving a net-zero emissions future.
For ECCO, the data is what drives us forward, constantly striving to improve through innovation. We work with our channel partners, manufacturers, engineers, field support, and utilize our partnerships, with organizations such as the American Gas Association, to collect the necessary research. This data allows to provide the best products and services to support the well tip to residential and commercial systems, ensuring natural gas remains in the global energy matrix. ECCO is focusing on technology, engagement, research, and innovation to reduce the carbon footprint.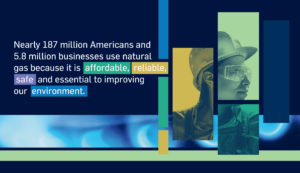 Important Natural Gas Facts From the American Gas Association
Affordability
Natural gas saved American families a total of $147 billion over the past decade due to lower domestic prices on natural gas.
The average American household saved $1,068 over the course of a year in comparison versus electricity.
Business and buildings such as schools, hospitals, police and fire stations, offices, restaurants, grocery stores, retail stores and public space saved a combined $500 billion over the past decade.
Environment
Natural gas has led to energy-related carbon dioxide emissions hitting 30-year lows.
Natural gas utilities invest $4.3 million per day in energy efficiency programs to help lower carbon footprints.
CO2 emissions from homes using natural gas are approximately 22% lower than an all-electric home.
Switching from coal to natural gas reduces emissions by 54%.
Safety
The natural gas industry's 2.6-million-mile underground pipeline system takes a number of steps to help maintain a long standing record of safety and reliably deliver natural gas to homes and businesses.
Each year, America's natural gas utilities spend more than $32 billion annually to help enhance the safety of the natural gas delivery systems.
Reach
Every minute a new residential customer signs up for natural gas to their home
Every day needed items from school supplies, , deodorant, lifesaving medical devices, even your favorite draft beer, use natural gas to get to consumers.
Over 150 school districts use natural gas field buses, reducing bus emissions by 50-90%
The natural gas industry supports more than 4.1 million jobs.
For more facts, information and a view at the future, check out the AGA Playbook