As a company deeply rooted in innovation, we believe in basic fundamentals for success: knowledge, quality product lines, and superior service.
We know that our company's success lies in your success. As a result, we are committed to providing support and the resources necessary for you and your team, saving you time and money on your projects and providing safe and accurate solutions for your customers' applications.
Three years ago, we partnered with American Society of Plumbing Engineers (ASPE) to offer continuing education courses at no cost, to both ASPE members and non-members, in the natural gas industry. The response has been tremendous, and to date, we have issued hundreds of certificates and credit hours.
We currently offer six courses and participants have the opportunity to learn about a variety of topics centered around natural gas regulators and meters. We are continuously developing and expanding our course offerings.
Our courses offer valuable information for mechanical and plumbing engineers, as well as other industry professionals who are seeking CEU credits.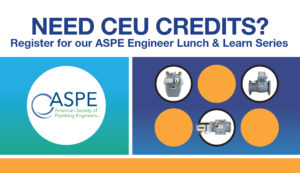 The following courses are currently available:
Intro to Gas Regulators – 1 credit hour*
This course offers an understanding of gas regulators. Topics include gas pressure and flow, mechanical technologies, terms, definitions and conversations and an introduction to standards and codes.
Gas Regulator Venting – 1 credit hour*
This course provides an overview of venting standards and codes related to vent and vent-limited gas regulators.  Topics include gas codes and applications, line pressure regulators, standards and certifications, regulator venting and integral vent limiting regulators.
Gas Regulator Sizing and Selection – 1 credit hour*
This course provides an overview of the regulator sizing and selection process.  Topics cover items necessary for sizing and selecting gas regulators, the importance of sizing and selection, turndown ratio, why droop is important and regulator sizing online tools.
Gas Regulator Installation & Troubleshooting – 1 credit hour*
This course provides an in-depth look at regulator installation and troubleshooting. Topics begin with a review of gas regulator basics and include installation best practices, proper installation of downstream control lines, examples of installations, and FAQ troubleshooting scenarios.
Gas Regulators & Over Pressure Protection – 1 credit hour*
This presentation provides an in-depth look at gas regulators and over pressure protection. Topics include over pressure protection for line pressure regulators, four major ways of providing over pressure protection, relief valve operation, automatic shutoff valves, compliant vs certified.
Intro to Gas Metering – 1 credit hour*
This presentation provides an overview of natural gas meters. Topics include basic understanding of rotary meters, diaphragm meters, turbine meters, ultra sonic meters and a review of pressure and temperature gas laws pertaining to gas flow correction.
Once you have completed one of our courses, you will be issued an ASPE CEU certificate, along with a resource guide for the course and specifications sheets for your reference.
To stay up-to-date on new course offerings or to register, we invite you to visit our CEU online catalog.