On August 11, 2017 we will be observing National 811 Day. It is an quick reminder to professionals and homeowners that no matter the size of the project, you should call 811 before you dig.  Normally utility lines can be marked with in 2-3 business days after calling in the project and there is not charge for this service.
Every six minutes, a utility line is cut somewhere in the United States that could have been prevented if 811 was called first.  Don't risk it! Call 811 before you dig!
For more tips on how to dig safe check out Call 811.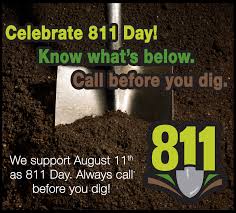 Share